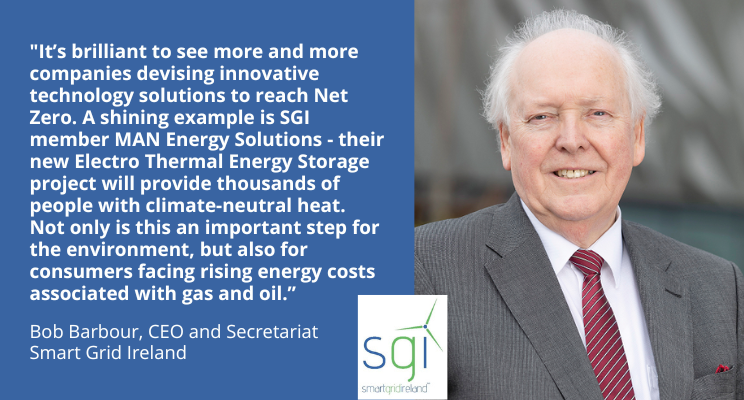 14/06/2022
SGI Member MAN Energy Solutions unveils new innovative heating solution for Denmark
This week, our CEO Bob Barbour joined guests from all over Europe on a visit to MAN Energy Solutions Schweiz AG in Zurich, Switzerland.
The visit included a demonstration of MAN's Electro Thermal Energy Storage district-heating project for Denmark. This technology solution enables the exploitation of excess power from renewable energy sources such as wind and solar energy.
Bob Barbour, CEO and Secretariat of Smart Grid Ireland, said: "It's brilliant to see more and more companies devising new and innovative technology solutions to clear the path towards Net Zero. During my visit at SGI Member MAN Energy Solutions, I was able to see first-hand the importance of such innovation. Their new Electro Thermal Energy Storage project will provide thousands of people with climate-neutral heat. Not only is this an important step for the environment, but also for consumers who are currently facing rising energy costs associated with gas and oil."
From 2023, the MAN Energy system will replace the current coal-fired plant in the Danish port city of Esbjerg and will supply around 100,000 local inhabitants with approximately 235,000 MWh of climate-neutral heat annually. MAN Energy have installed the largest CO2 heat pump ever built in their own testbed in Zurich. On the road to clean heat there is currently a 34% growth in 21 markets with Norway, Denmark, France, Italy and Germany leading the way.
MAN is a board member of Smart Grid Ireland, which aims to inform government and regulation, promote good corporate citizenship and actively drive technology solutions that accelerate the cultural and societal changes needed to achieve a digitalized, decentralized and decarbonised electricity network in Ireland. 
Our Members
Our members are active stakeholders in driving innovative technology solutions towards a Net Zero future.